Expand as you grow – One Need, One App
Odoo is an all-in-one management software that offers a range of business applications that form a complete suite of enterprise management applications targeting companies of all sizes. Odoo is an all-in-one business software including CRM, website/e-commerce, billing, accounting, manufacturing, warehouse – and project management, and inventory.
No more painful integrations.
With 10.000+ apps in, Odoo covers all your business needs in a one-stop solution: no more interfaces between different software required. Odoo apps are perfectly integrated to each others, allowing you to fully automate your business processes.
"We replaced 14 different applications and increased revenues by 10% overnight."

Marc Peeters, General Manager of the Vending Division
A unique value proposition
Everything you need within a top notch user experience.
With strong technical foundations, Odoo's framework is unique. It provides top notch usability that scales across all apps.
Usability improvements made on Odoo will automatically apply to all of our fully integrated apps.
That way, Odoo evolves much faster than any other solution.
CRM
The real customer
centric CRM
Track leads, close opportunities
and get accurate forecasts.
Get accurate forecasts
Use actionable data to make better decisions.
Get the insights you need to make smarter
decisions.
Design custom dashboards to get a picture
of your business at a glance.
Dig deeper with real-time reports and flow
charts that anyone can create and share.
Get more done in less time
Great Tools = Happy People
Schedule activities based on your sales scripts: calls, meetings, mailing, and quotations. Get all information you need, directly on the opportunity: website pages viewed, mail received, etc.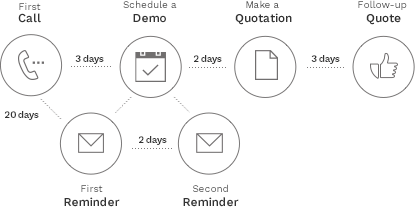 Real-time overview
Easily review your performances & next activities.
Know exactly how you perform compared to your monthly targets.
Organize your work based on your scheduled next actions.
Stay connected to yourcustomers
Real-time messaging to enhance collaboration.
Get a quick overview of what's going on in your team. See when a colleague logs a call or send a quote. Share ideas and files in real-time and catch-up things you missed when you were away.