Expand as you grow – One Need, One App
Odoo is an all-in-one management software that offers a range of business applications that form a complete suite of enterprise management applications targeting companies of all sizes. Odoo is an all-in-one business software including CRM, website/e-commerce, billing, accounting, manufacturing, warehouse – and project management, and inventory.
No more painful integrations.
With 10.000+ apps in, Odoo covers all your business needs in a one-stop solution: no more interfaces between different software required. Odoo apps are perfectly integrated to each others, allowing you to fully automate your business processes.
"We replaced 14 different applications and increased revenues by 10% overnight."

Marc Peeters, General Manager of the Vending Division
A unique value proposition
Everything you need within a top notch user experience.
With strong technical foundations, Odoo's framework is unique. It provides top notch usability that scales across all apps.
Usability improvements made on Odoo will automatically apply to all of our fully integrated apps.
That way, Odoo evolves much faster than any other solution.
Project Management
Modern interface
What you need, the way you like it
ORGANIZE
A simple drag-and-drop view to help you easily group tasks at the right stage.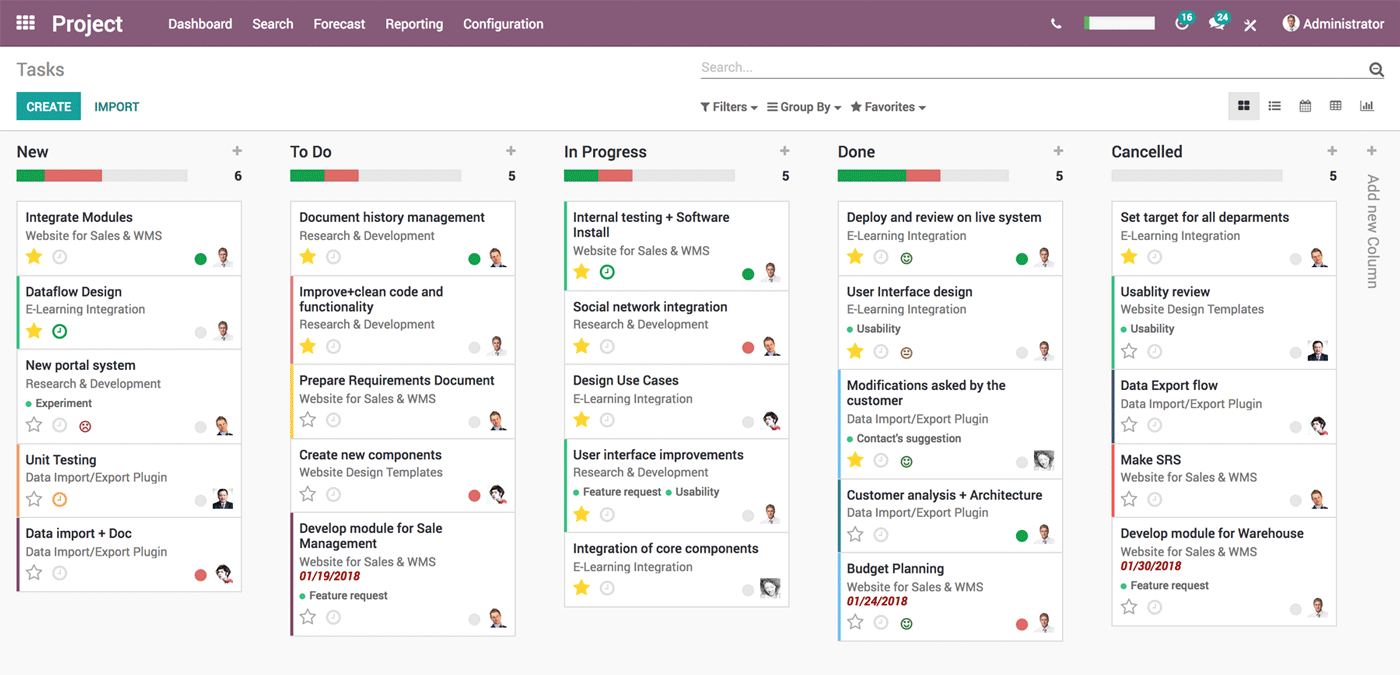 SCHEDULE
Easily check your team's planning and reschedule to keep within your deadlines.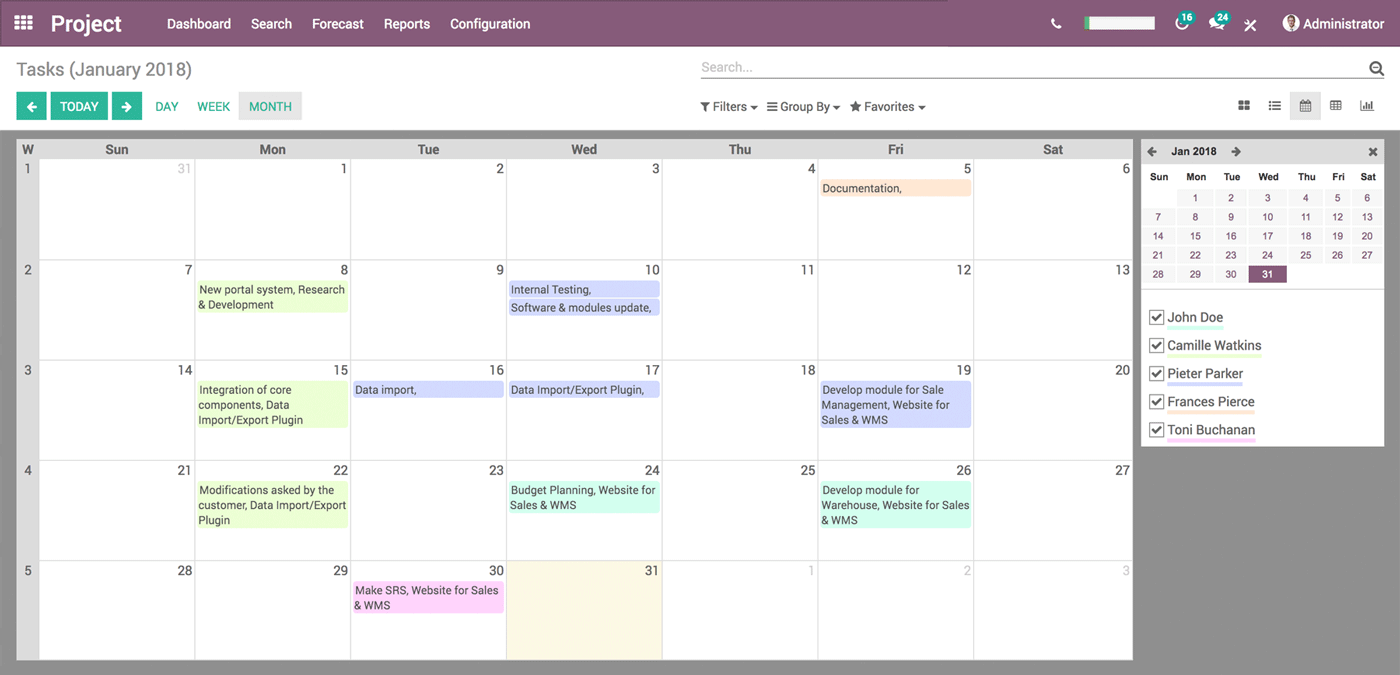 PLAN
Keep track of deadlines and progress of your projects with a clear overview.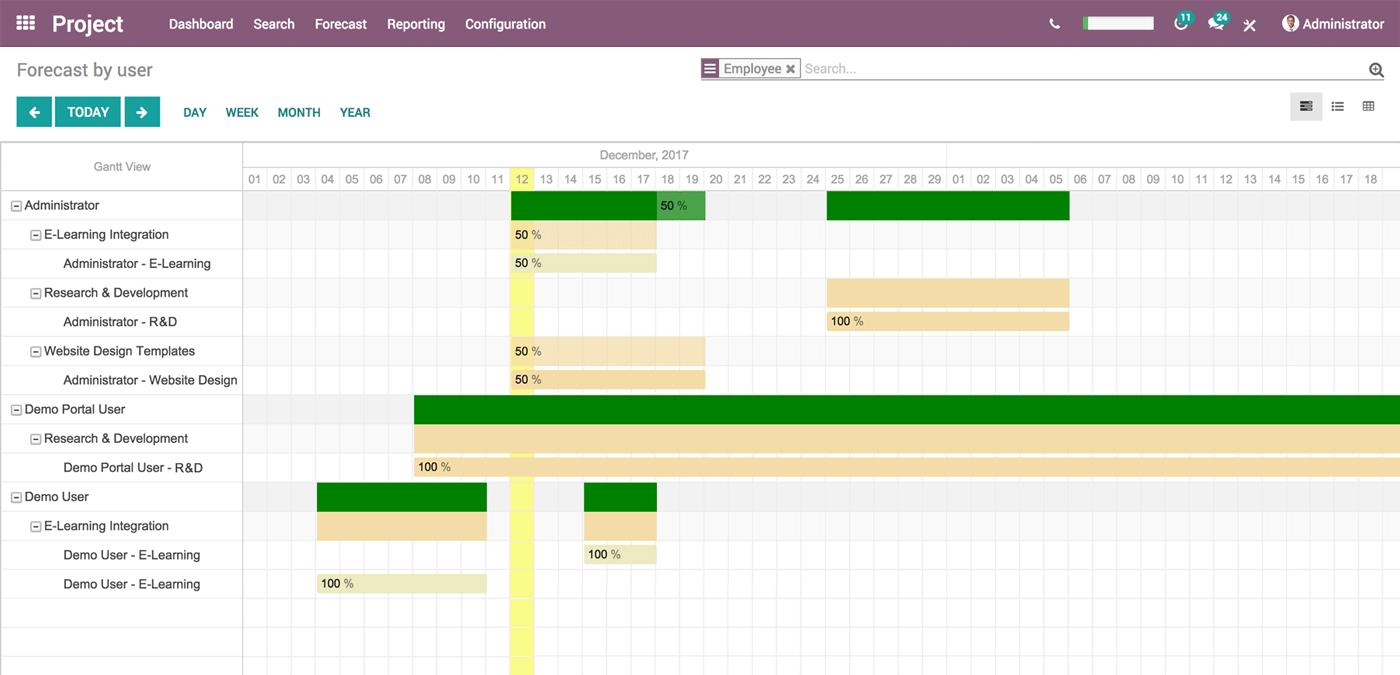 ANALYZE
Keep a good overview of your workload and of the status of individual tasks.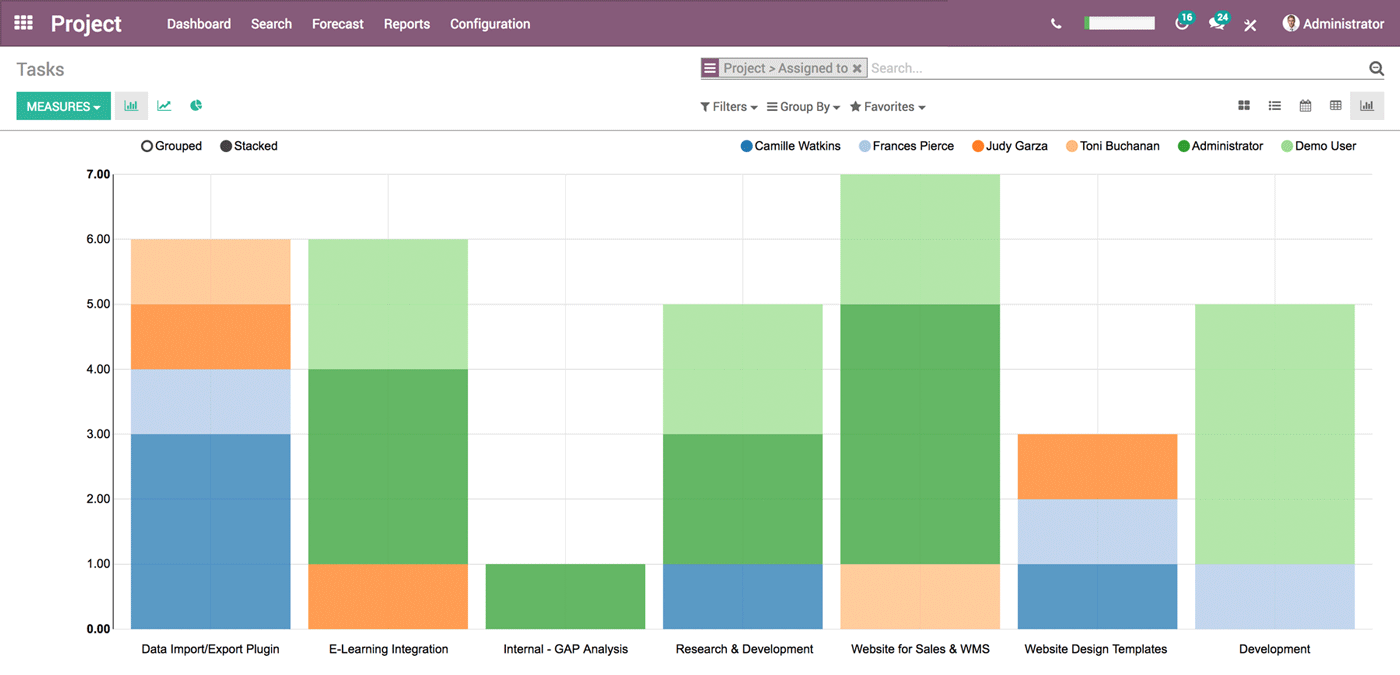 Forecast needs
& resources
Project performance & employees' availability
Schedule your teams across projects taking employees' holidays into account. Plan ahead for upcoming projects with forecasts based on comparable projects and estimate deadlines more accurately. Compare forecasts with real timesheets for increased profitability.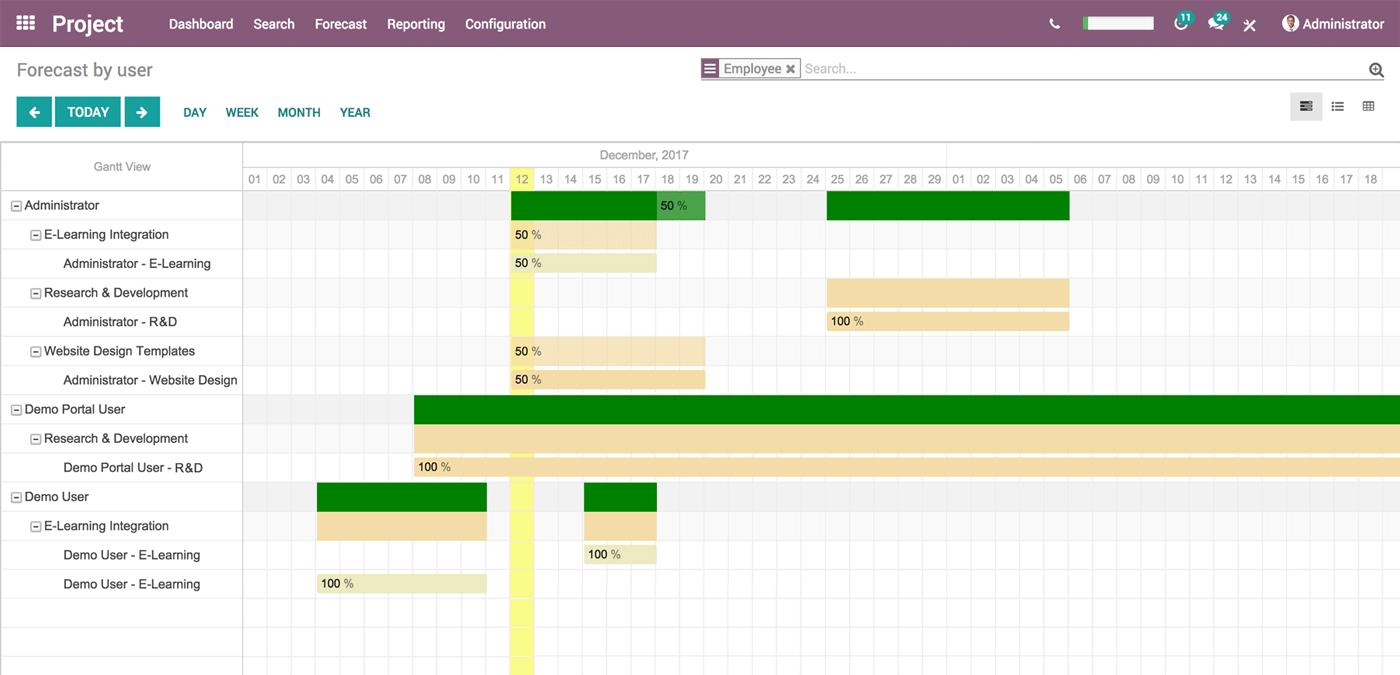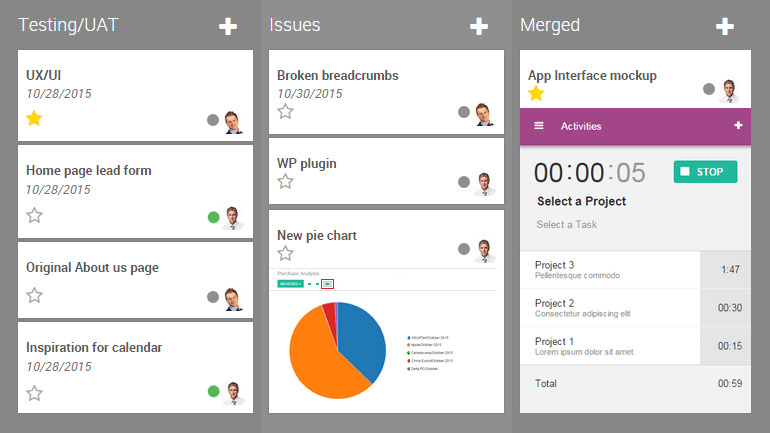 Harness the power of visual information
Flexible project management made easy.
Simplify your processes and enhance employees collaboration.
Break down your project in bite-sized tasks and assign them to your team for improved collaboration.
Create customized stages for each project to simplify your workflow overview and increase overall project efficiency.
Discuss tasks
Share documents
Add quick notes or attach files to any task and stay connected to your team. Forget endless follow-up meetings to keep track of projects. Communicate through the chatter, write in a shared real-time pad, or use live chat – all within a single interface!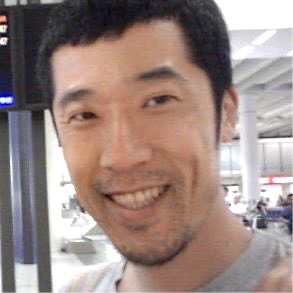 "Odoo provides an essential platform for our project management. Things are better organized and much more visible with it."

YOSHI TASHIRO, MANAGING DIRECTOR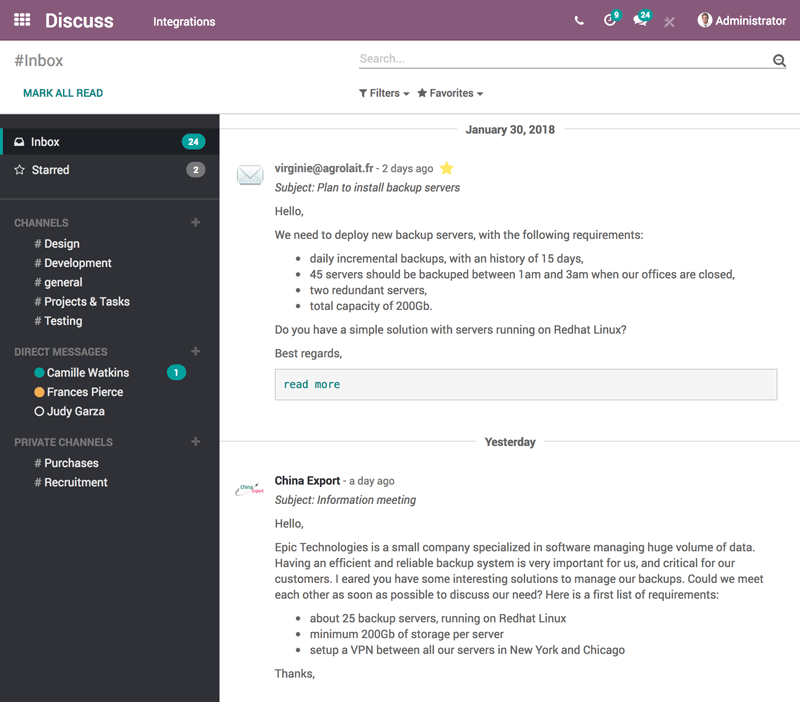 Conceptualize project scope within an easy-to-read overview
A functional and dynamic graph view for every task
Create graph views to analyze your data utilizing a powerful search tool, filter and grouping functions, and a variety of unique visual interfaces to help you track and maintain your projects from any level.