Expand as you grow – One Need, One App
Odoo is an all-in-one management software that offers a range of business applications that form a complete suite of enterprise management applications targeting companies of all sizes. Odoo is an all-in-one business software including CRM, website/e-commerce, billing, accounting, manufacturing, warehouse – and project management, and inventory.
No more painful integrations.
With 10.000+ apps in, Odoo covers all your business needs in a one-stop solution: no more interfaces between different software required. Odoo apps are perfectly integrated to each others, allowing you to fully automate your business processes.
"We replaced 14 different applications and increased revenues by 10% overnight."

Marc Peeters, General Manager of the Vending Division
A unique value proposition
Everything you need within a top notch user experience.
With strong technical foundations, Odoo's framework is unique. It provides top notch usability that scales across all apps.
Usability improvements made on Odoo will automatically apply to all of our fully integrated apps.
That way, Odoo evolves much faster than any other solution.
Recruitment
Hiring Processes Made Easy
From the sourcing to the contract,handle your recruitment process easily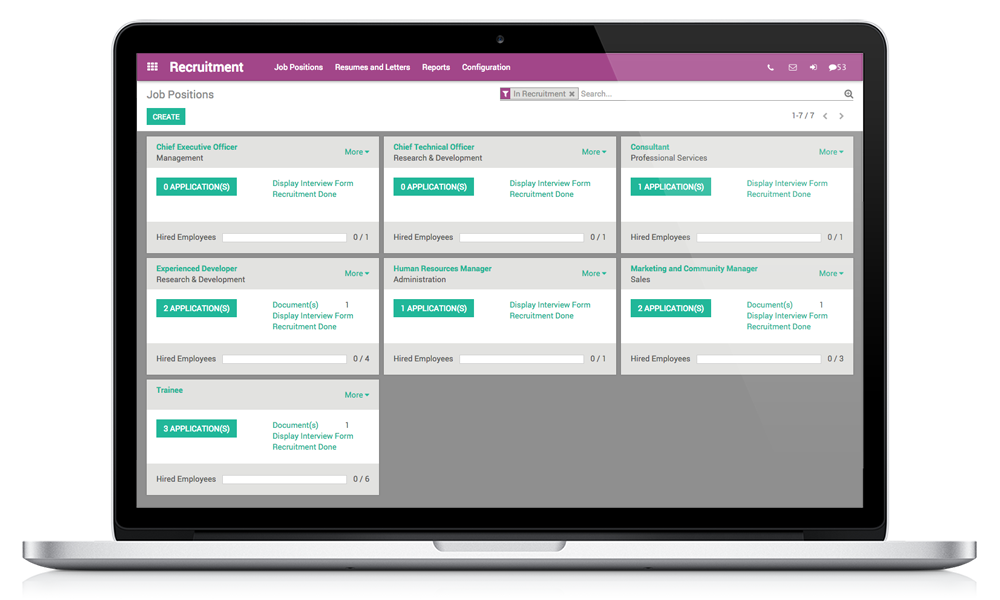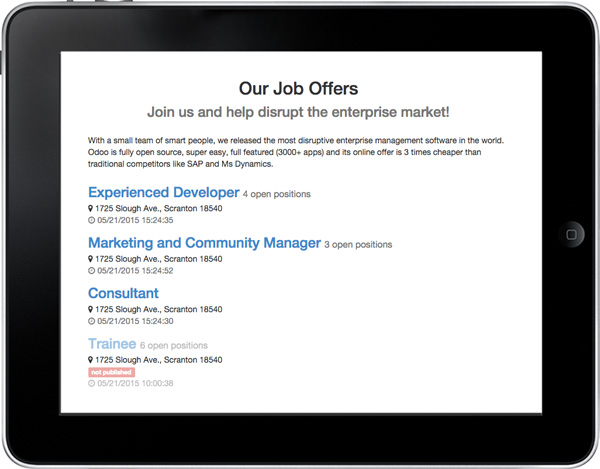 Manage your hiring process
Organize your vacancies job applications
Set up your job board, promote your job listings and easily keep track of submitted applications. Follow every applicant and build a database of skills and profiles with indexed documents. No need to outsource your recruitment – handle everything internally in a simple and professional way.
Track job offers straight from the app
See which channel drives most applications and gather all of them in Odoo.
A new email address is automatically assigned to every job offer in order to route applications directly to the right one.
Whether applicants contact you by email or using an online form, get all the data automatically indexed (resumes, motivation letter, etc.) and answered in just a click, using templates or personalized emails.

Customize your recruitment process
Define your own stages and interviewers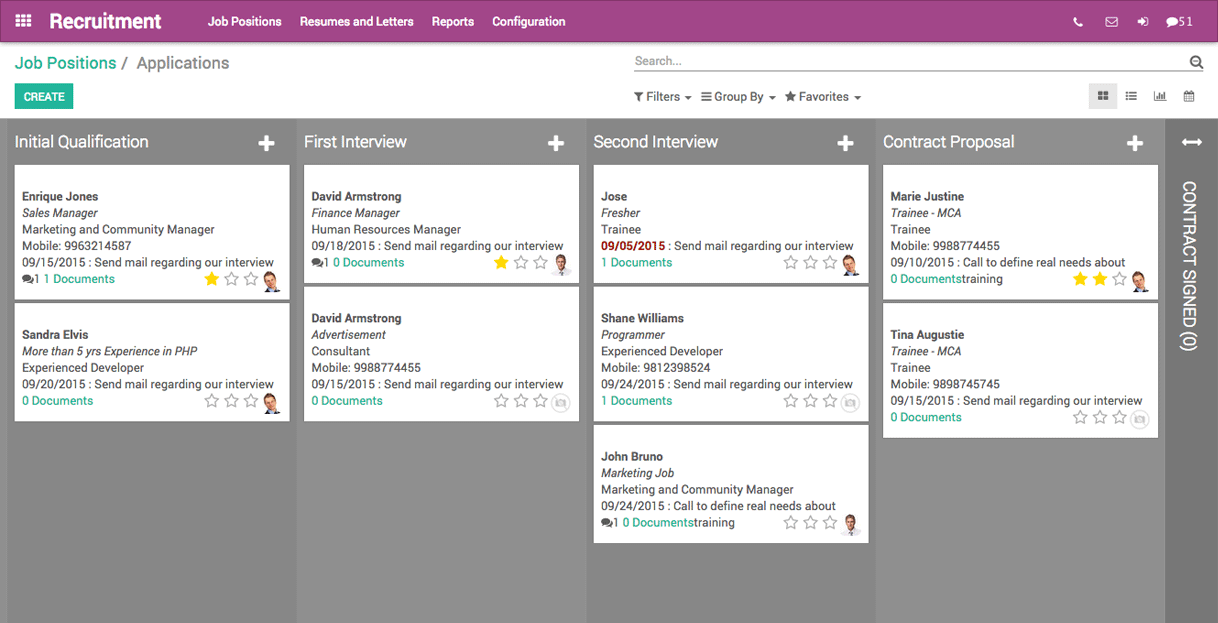 Create your own hiring strategies.
Use the kanban view and customize the steps of your recruitments process: pre-qualification, first interview, second interview, negotiation, etc. Get accurate statistics on your recruitment pipeline.
Use reports to compare the performance of postings you have made on different external job boards and easily change your strategy and recruitment plan based on the results.
Simplify application management
Index resumes, track applicants, search profiles
Follow applicants in your recruitment process with the smart kanban view. Save time by using templates to automate some communication. Documents like CVs and motivation letters are indexed automatically, allowing you to easily search for specific skills and build up a database of profiles.

Integrated Surveys
Define your own online/offline surveys
Create your own interview canvas
based on your best practices.
Use the survey designer to adapt questions
to your own process.
Ask the applicants to fill in the survey online
or ask the interviewer to use it during real interviews.